Home

/

World Book Day - Thursday 4th March
World Book Day - Thursday 4th March
25 February 2021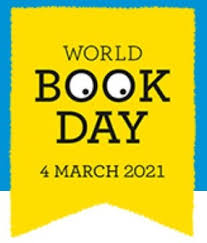 25th February 2021
Dear Parents and Carers,
This year World Book Day, (now in its 24th year) will be on Thursday 4th March 2021. Although school and learning looks different this year, as a school, we are looking forward to celebrating reading during this week.
FYI: World Book Day is a registered charity on a mission to give every child and young person a book of their own. It's also a celebration of authors, illustrators, books and (most importantly) it's a celebration of reading. In fact, it's the biggest celebration of its kind, designated by UNESCO as a worldwide celebration of books and reading, and marked in over 100 countries all over the world.
This year we have the following events planned:
Develop a 'Who's in Your Book' character
Children will watch a short video clip of this month's Author Profile, Tom Fletcher, who explains how he comes up with ideas for his books. Children can then develop their own character. The links will be sent home to each class via Google Classroom.
A cosy place to read
Children are invited to send in photos of themselves reading in their favourite cosy place. This could be a cosy chair, sofa or wherever they like to sit, relax and curl up with a book. We would love photos to be emailed to the class teacher via Google Classroom so we can make a display in school.
Book character made out of toilet roll tube.
Children are invited to pick a character from a book that they love and make the character using the cardboard inside of a toilet roll. Children who are in school on Thursday 4th March will make them in school and anyone learning from home can make their character and send in a photo.
World Book Day Read Along
As part of World Book Day Staffordshire Libraries will be hosting a story read-along via their social media platforms – Facebook, YouTube and Twitter on Thursday 4th March at 2pm. The BookTrust have made available free copies of My Pet Star books and some accompanying activity sheets.
Families will be able to collect these free resources from Monday 22nd February so that they can read along with the story. They will be available for collection from Newcastle Library.
Own Clothes Day
On Thursday 4th March children are welcome to come to school (or learn from home) dressed as a character from a book, or just celebrate by wearing clothes that are comfy to read in.
We are looking forward to holding these events in school and do encourage you and your children to join in with as many of them as possible. Each key stage will be provided with a menu of other activities for you to choose from if you would like get even more involved, and you can find out more about World Book Day at worldbookday.com We do hope that you will be able to help us celebrate.
Thank you very much for your continued support.
Yours faithfully,
Mrs Goodstadt and Mrs Brown.